When I talk to many people about my various challenges and longer distance events, at some point the conversation will usually get around to the topic of training.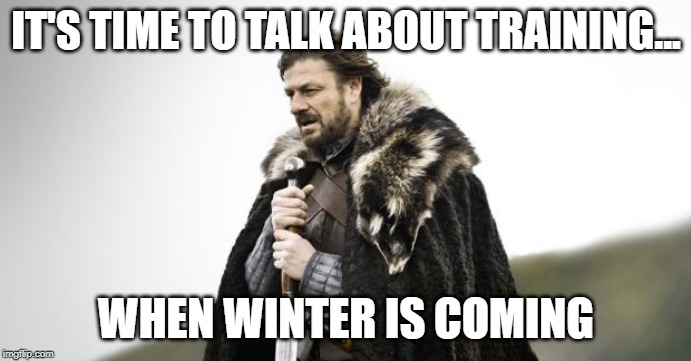 As much as I would love to claim to run hundreds of miles each month or smash through 4am gym sessions the truth is somewhat less exciting: I train 3 or 4 times per week, usually for about an hour, majority cardio, and whilst I do step it up as I get closer to the big day there is only so much time in the week with a full time job (and 9 month old baby!).
When I first started out my training was very gym based, with a big focus on spin and circuit based classes and only occasional outdoor stuff. It was only when I started working away and wanted to escape the monotony of chain hotels that I even got into running. To be fair though it all worked, seeing me through three 70.3 Ironmen, two 100 mile cycle sportives, one marathon and a whole load of obstacle races, half marathons and so on.
The common denominator of all those races though, is they took place during Summer or early Autumn, which has meant for most of the last 6 or 7 years I have been able to take it steady from around October to March, keeping my base fitness through Winter with nice cosy indoor gym sessions, before starting to step things up as the time the clocks Spring forward and the temperatures start rising, in time for my A-race.
Everything has changed this year with the London Marathon, an event not only terrifying in its distance (which I know I can do) but in its timing – April! This has truly forced me out of my comfort zone as I actually have to train properly through the Winter, increasing my weekly mileage throughout December, January and February. Believe me, getting around 26 miles is a big part of the sponsorship, but it is those three to six months before that you really earn the contributions and show your commitment.
Where once I used to smile inwardly at the ice cold January joggers, shuffling down the pavements in their shiny New Year's resolution kit, as I drove past for another high energy class in my cosy warm gym, I am now the one hobbling down the high street in the fog, dodging the tidal waves as cars take turns to try and splash me with any available puddles. Yes, I am now a Winter runner.
To be fair there are some benefits of Winter running. When you get the right day, the sky can be even clearer than Summer, you have the roads to yourself, and the chills act as natural motivation to run faster and stave off hypothermia. But get the wrong day, or worse one which starts out looking alright and tricks you into running miles from home before unleashing a months worth of rain in half an hour… but back to the positives!
First up is the kit, which admit it or not, is always a massive draw for anyone who likes to work out in the cold dark evenings – and don't the manufacturers know it. Layers of long sleeved, sweatproof, fast wicking tops just look cool, and the best ones even have those thumb holes in the sleeve so you can use them as a sort of weird glove thing. As a bonus they usually come in a range of 90's dayglow colours which stand out in the dark, making you look like a high speed version of Ross's teeth (for older readers think Cheshire cat)!
Then there are the leggings, a top look for any modern man, and one I rock hard, at nighttime anyway as they tend look a bit tight on my rugby player legs. Still, they keep you a lot warmer than shorts, as I have found to my cost in the past with bright red legs and icicle toes. I also usually run in my trail shoes at night, mainly to protect my precious road trainers from all that mud that accumulates on the local roads that you can't see in the dark…
…or so I thought until I invested in an even 'cooler' piece of kit. That's right I actually went and bought what used to be described as a miner's lamp but is now cunningly re-branded as a runner's head torch, ensuring my runs through the park now look to the casual observer like some sort of illegal teenage rave is going on, meaning it is only a matter of time before I get chased by the 5-0. Until they see my skintight leggings up close and let me go as the fall over laughing.
But as usual it will be me who has the last laugh , as I can really tell the difference this year having done all this extra Winter training in the last few months. Not only will it make sure I am ready for London but give me a head start on any other events I do later on in the year: maybe even a new PB. Who needs Summer?!